In this digital era, finding a job is not a difficult task like before when people had to run door to door for a long time to get a job. With the blessings of modern technology, we can find jobs and can get our desired job staying at home.  There are a number of online platforms which allow job seekers to find jobs from anywhere with the help of the internet. Bdjobs.com Ltd is the largest and the most renowned job searching and career management site in Bangladesh.
This site is not only made for getting a job but it allows employers to manage many of their tasks associated with the recruitment process more easily and effectively. Thus this site helps us by saving our valuable time and money. They provide all kinds of private jobs, Government Jobs,  Bank Jobs.
But for being a user of this site, you should have a valid bdjobs account. So first of all, you have to know how to create an account in Bdjobs. Then you can create an account to get the entire opportunities of the site. So today we've come up with the guidelines which can help you to create a bdjobs account with no time. 
So let's get started. 
Easy steps to create a new bd jobs account
By following some easy steps you can create a new bdjobs account within a few minutes. Today in this tutorial, we will discuss how to create accounts in Bdjobs.com. 
What do you need to have for creating a bdjobs account
All you need to get an account at bdjobs are following;
An email account: Gmail, Yahoo mail, Hotmail, or whatever.
All information about your personal information like educational qualifications and working experience. 
A freshly taken colored photograph.
A valid mobile number.

 
How do you create a bdjobs account? 
Bdjobs.com is the largest and most popular job marketplace in Bangladesh. Every day thousands of job seekers in different categories visit this site and look for jobs. So naturally here you have to compete for the job. 
Surviving the competition with thousands of job seekers requires a quality BDjobs account as well as a functional, powerful and eye-catching CV.
So let's see which are the steps you should follow for creating an effective account in Bdjobs.com. 
Step-1: First of all, go to the official website of Bdjobs.com to create the account. In order to visit the site click on this link www.bdjobs.com.  
After opening the home page of the site, click on the "Sign in or Create Account" option to create a new account as the picture shows in below.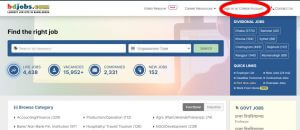 When you click on this option, there will be another two options on the screen. These are:
My Bdjobs
This option is for general candidates. This means that those who are looking for a job will select this option in order to create a bdjobs account.
Employers 
This option is for the people who are looking for workers for their job. Those people who are employers and want to get a job candidate in the fastest way will select this option and create an employer account. 
In this post, we are going to show you how you can create a bdjobs account as a job seeker. So you have to choose the first option "My Bdjobs".
Step-2:  When you select the first option, you will get a new page in this second step. In this section, you will find three different categories to choose from. You should select any of them based on your knowledge, educational qualifications, and working skill. 
After selecting a category, you should create your account based on that category. But fortunately, there is also a chance for changing the category if you need to after creating the account.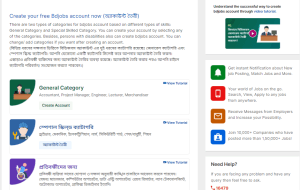 However, there are two major categories for creating BDjobs accounts based on different types of working skills. These two categories are the General Category and the Special Skilled Category.  Moreover, there are also opportunities for people with disabilities to create accounts in the disability category.
The general category 
The General category allows you to get various professional/managerial/administrative jobs such as accountant, project manager, engineer, lecturer, merchandiser, etc. You will get this category at the top of the other two categories. You can start creating your new account by clicking on the category name.
The special skilled category
The Special Skilled category is a variety of technical jobs such as driver, mechanic, technician, nurse, security guard, chef, peon etc. Creating an account for this category is very easy and you just need to follow some easy steps that we will discuss soon in this post. 
The disability category
Choose this option for those who have suitable qualifications but also have physical disabilities. 
However, today in this section we will discuss how you should create accounts for the general category. To create an account for the general category, select the "Create Account" button.
Step-3:  By clicking on the "Create Account" option, a new page will appear soon. You have to fill up the page with your personal information like your name, gender, working skills, e-mail address, mobile number and password.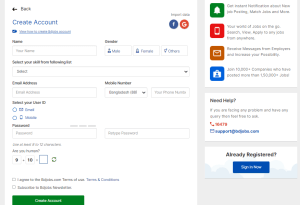 In this step, you have to set the email address or mobile number as your "User ID" which will be needed for login into the account later. 
Step-4:  When you finish filling up the file completely, click on the "Create Account" option in the green colored box.
By doing this, your new bdjobs account will be created. 
Step-5:  After creating the account, you have to activate your new account to go further and enjoy the full advantages of the site. To do this, you just need to go through an easy step. 
You will get a verification mail through the email address that you had attached into the file.
So check the mail and click on the verification link attached with the mail.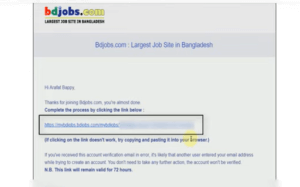 Step-6: Now activate the account by clicking on the link. Then a new page will appear soon to assure you that you've done your verification successfully.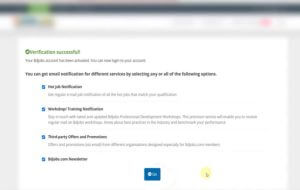 At the bottom of the page, you will see the option named "Go". You can create your CV by clicking on this button. 
Step-7:  Your cv will help you to get jobs from the site. To create a CV with your personal information (your name, father's and mother's name, DOB, religion, marital status), Education/Training, Employment, Other information, Photograph, and so on.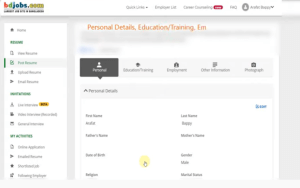 The more necessary information you will attach to your CV, the more your CV will get a professional vibe. By creating a CV, you're completely ready to enjoy all of the internal opportunities of the site. 
Our Final Thoughts
Bdjobs.com is a renowned and very effective career management site in Bangladesh. But many of them in spite of having an account in Bdjobs for a long time, are not getting a call from any recruiter or are not getting a job even after applying somewhere. 
There are a number of reasons for this, including one's educational qualifications and previous job experience. Moreover, another thing is not being able to create a CV properly in bdjobs. Many people do not create a complete CV with enough information to set up an account in Bdjobs. 
Remember, if an employer doesn't know all the information about you, how will he or she be attracted to you? That's why if you make a CV in Bdjobs, you should do it well so that it easily falls in the eyes of the recruiter. 
And after having an account in Bdjobs, you have to keep regular inquiries which many people do not do. Hopefully, if you pay attention to these issues, you will be easily seen by the recruiters.
Bdjobs is an online marketplace. Simply as a job market, here you are just a product. So keep in mind that buyers go around the market and buy the best product. Hope you found our tutorial helpful and so this is the end of today's article.