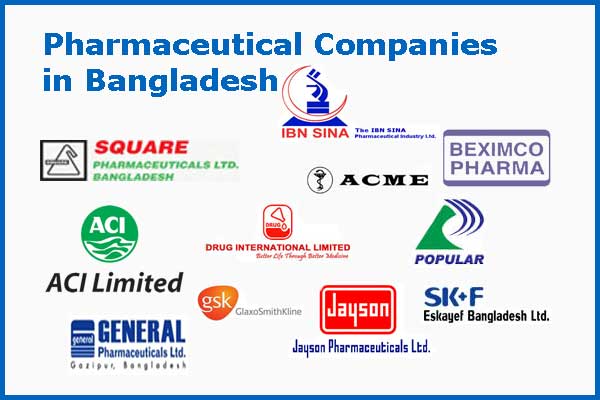 There was a time when people would die due to lack of treatment in our country. Gradually his condition improved a lot. Because now the medicine used in the medical system is producing in our own country. The medication that is producing modern medical materials. As our dependence on foreign countries decreases, our country becomes self-sufficient. Now this time we inform you about the top 10 pharmaceutical companies in Bangladesh.
However, the pharmaceutical sector is one of the few sectors that Bangladesh has advanced since independence. At present, there are many big pharmaceutical companies in the country exporting medicines to foreign countries to meet the country's demand. In our today's post, we will learn about the top 10 pharmaceutical companies in Bangladesh.
Square Pharmaceuticals Limited
Samson H Chowdhury founded a pharmaceutical company called Square Pharmaceuticals Limited in 1956. He and three of his friends started the company, but it was a private company in the beginning.
In 1991, they became public companies by opening their Dhaka Stock Exchange market shares. Square headquarter in Mohakhali, Dhaka. Square makes antibiotics in addition to other medicines.
Apart from supplying the whole country, they also export medicines to 36 countries worldwide. Square's current market capitalization is ৭ 1.6 billion. Their net income is 150 million US dollars per year. Their whole staff is about 9234 people.
See More: Square Pharmaceuticals Job Circular
Incepta Pharmaceuticals Limited
Incepta Ltd usually makes generic drugs. Incepta started its journey in 1999 as a private company. Its founder and chairman are Abdul Muktadir.
Incepta headquarter is Tejgaon area of ​​the capital. They have two manufacturing centers, one in Savar and the other in the Dhamrai area. In the beginning, they only made medicine for Bangladesh, but now they supply the product worldwide to meet the country's demand.
Incepta has become very popular by making many high-quality medicines using modern technology. In 2015, they signed an agreement with a German pharmaceutical company to work on bioengineering. Incepta is a significant achievement for a local company. Incepta is also the main sponsor of Rangpur Riders in BPL.
Read: Incepta Pharmaceuticals Job Circular
Beximco Pharmaceuticals Limited
Beximco Pharmaceuticals Limited is a subsidiary of Beximco Group of Companies. Beximco Pharmaceuticals is also known as Beximco Pharma.
Although Beximco Pharmaceuticals was established in 1986, its operations date to 1980, Beximco is the first Bangladeshi pharmaceutical company to export drugs to the US market. In addition, they make various life-saving medicines under their brand in their own company.
These include AIDS, cancer, asthma, high blood pressure, diabetes, etc. Beximco's headquarter is in Dhanmondi, Dhaka, and its current managing director is Nazmul Hasan Papon.
According to 2016 data, Beximco's total revenue is 822.7 billion, and net income is 33 billion annually. At present, a total of 4523 workers work here. In addition, Beximco Pharmaceuticals Company exports medicines to other countries to meet all the country's needs.
See: Beximco Pharmaceuticals Job Circular
Opsonin Pharma Ltd
Opsonin Pharma was founded in 1956 by Abdul Khaleq Khan. Its headquarter is in the 30 New Eskaton area in Dhaka. According to Intercontinental Marketing Services, Health or IMS Health, Opsonin is the fourth-largest pharmaceutical company in Bangladesh in terms of sales.
Opsonin is a stage due to good medicines at a low cost. It currently makes 800 variation products of 350 brands also export drugs to 25 different countries outside Bangladesh. Opsonin Pharma employs 6,241 people and has a combined revenue of over 11 billion.
Renata Pharmaceuticals Limited
Renata Pharmaceuticals was established in 1993. Renata Pharmaceuticals Company was formerly known as Pfizer Laboratories Limited. In addition to making human medicine, they also make animal medicine. Renata is one of the top 10 pharmaceutical companies in Bangladesh today.
Apart from veterinary medicine, it also makes nutritional products for animals. In addition, Renata also manufactures and exports hormones, steroids, and cytotoxic drugs. Renata's current chief executive is Syed S. Kaiser Kabir, headquartered in Mirpur, Dhaka. In all, a total of 3475 employees are currently working.

SKF Pharmaceuticals Limited
Eskayef Pharmaceuticals Limited is a private limited company. SKF Pharmaceuticals is also known as SK + F. Its chief executive is Seamen Rahman. SKF Pharmaceuticals is a part of Transcom Company. It was established in 1990.
Apart from human medicine, they also make medicines used in therapy, including various animal medicines, nutritional supplements, etc. SKF Pharmaceuticals' headquarter is in Gulshan, Dhaka. At present, they are exporting drugs to 21 countries of the world.
See: Eskayef Pharmaceuticals Ltd Job Circular
Acme Laboratories Bangladesh
Acme is a reputed Bangladeshi pharmaceutical company. In 1954 Mr Hamidur Rahman Sinha established ACM. They currently make and sell over 500 types of products.
Initially, their company was in Narayanganj, Dhaka but later, they shifted to the Kalyanpur area. At present, 8000 workers work in Ekmi. They also make veterinary medicine, herbal and ayurvedic medicine besides human medicine.
See: ACME Laboratories Ltd Job Circular
ACI Bangladesh Limited
Advanced Chemical Industries (ACI) is an industry group. ACI Bangladesh Limited was established in 1992. They make many products at once, including pharmaceuticals, chemicals, consumer goods, food products, and electronics.
It is a public company whose chairman is Mr M. Anisuddaula. The ACI company currently employs about 10,000 people, and the total sales in the 2016-17 financial year were around Tk 8,026 crore.
Aristopharma Limited
Aristopharma is one of the top 10 pharmaceutical companies in Bangladesh. Aristopharma started its journey in 1986 to bring quality medicine to the market.
They are making all kinds of high-tech medical supplies. They also export medicines to 34 countries of the world besides Bangladesh. A total of 200 brands of their drugs are available in the market. Aristopharma currently employs 6,000 people. Aristopharma headquarters in the Old Paltan area of ​​Dhaka, and its chairman is MA Hasan, owner of Hasan Corporation.
See: Aristopharma Ltd Job Circular
Drug International Limited
Drug International was established in 1984 and has been active since 1983. In the beginning, they followed the guidelines of the World Health Organization. Then they started making their products.
They are the first company in Bangladesh to introduce soft capsules. Dr MM Amjad Hussain founds drug International, and the current Managing Director is MA Haider Hussain. Drug International currently employs more than 5,000 people. They make herbal and Unani medicine as well as standard conventional medicine.
See here: Drug International Limited job circular
Top Pharmaceutical 100 Companies list of Bangladesh
01. ACI Ltd.
02. Acme Laboratories Limited.
03. Alco Pharma Ltd.
04. Ambee Pharmaceuticals Ltd.
05. AmIco Laboratories Ltd.
06. Amulet Pharmaceuticals Ltd.
07. Apex Pharmaceuticals Ltd.
08. Apollo Pharmaceutical Laboratories Ltd.
09. Aristo Pharma Ltd.
10. Astra Biopharmaceuticals Limited
11. Beacon Pharmaceuticals Ltd.
12. Beximco Pharmaceuticals Ltd.
13. Bio- Pharma Laboratories
14. Bristol Pharmaceuticals Ltd.
15. Central Pharmaceuticals Ltd.
16. Chemist Lab. Limited
17. Concord Pharmaceuticals Ltd.
18. Cosmic Pharma Ltd.
19. Delta Pharmaceuticals Ltd.
20. Desh Pharmaceuticals Ltd.
21. Doctor's Chemical Works Ltd.
22. Doctor TIMS Pharmaceuticals Ltd.
23. Drug International Ltd.
24. Elixir Pharmaceuticals Ltd.
25. Eskayef Bangladesh Ltd.
26. Essential Drugs Company Ltd.
27. General Pharmaceuticals Ltd.
28. Genvio Pharma Limited
29. Globe Pharmaceuticals Limited.
30. Gonoshasthaya Pharmaceuticals Ltd.
31. Hamdard Lab. (Waqf) Ltd.
32. Healthcare Pharmaceuticals Limited
33. Ibn-Sina Pharmaceuticals Ltd.
34. Incepta Pharmaceuticals.
35. Innova Pharmaceuticals Limited.
36. Jayson Pharma Ltd.
37. Jams Pharmaceuticals Ltd.
38. Julphar Bangladesh Ltd.
39. Labaid Pharma Ltd.
40. Libra Pharmaceuticals Ltd.
41. Medicon Pharmaceuticals Ltd.
42. Medimet Pharmaceuticals Ltd.
43. Millat Pharmaceuticals Limited
44. Modern Pharmaceuticals Limited
45. Mystic Pharmaceuticals Ltd.
46. Navana Pharma Ltd.
47. NIPRO JMI Pharma (NJP) Ltd.
48. Novelta Bestway Pharmaceuticals Ltd.
49. Novus Pharmaceuticals Ltd.
50. Novartis Bangladesh Ltd.
Pharmaceutical Companies of Bangladesh
51. GlaxoSmithKline Bangladesh Ltd.
52. Nipa Pharmaceuticals Ltd.
53. Nuvista Pharma Limited
54. One Pharma Ltd.
55. Opsonin Pharma Limited
56. Organon (Bangladesh) Ltd.
57. Orion Pharma Ltd.
58. Oyster Pharma Ltd.
59. People's Pharma Ltd.
60. Pacific Pharmaceuticals Ltd.
61. Pharmadesh Laboratories Ltd.
62. Popular Pharmaceuticals Ltd.
63. Radiant Pharmaceuticals Ltd.
64. Renata Ltd.
65. Rephco Pharmaceuticals Ltd.
66. Sharif Pharmaceuticals Ltd.
67. Sanofi Bangladesh
68. Seema Pharmaceuticals Ltd
69. Supreme Pharmaceuticals Ltd.
69. SMC Ltd.
70. Somatec Pharma Ltd.
71. Sonear Laboratories Ltd.
72. Square Pharmaceuticals Ltd.
73. Sun Pharma Bangladesh Ltd.
74. Techno Drugs Ltd.
75. The White Horse Pharma
76. Unimed Unihealth MFG. Ltd.
77. Veritas Pharmaceuticals Ltd.
78. Ziska Pharma Ltd.
79. Albion Laboratories Limited
80. APC Pharmaceuticals Ltd.
81. Asiatic Laboratories Ltd.
82. Gaco Pharmaceuticals Ltd.
83. Globex Pharmaceuticals Ltd.
84. Hudson Pharmaceuticals Ltd.
85. Kumudini Pharma Ltd.
86. Pharmacia Limited
87. Prime Pharmaceuticals Ltd
88. Silva Pharmaceuticals Ltd.
89. Zenith Pharmaceuticals Ltd.
90. Zuellig Pharma Bangladesh Limited
91. Active Unani Laboratory
92. Adex Pharmaceuticals (Unani)
93. AL-Madina Pharmaceuticals Ltd.
94. Deep-laid Pharmaco Ltd.
95. Modern Herbal Group
96. Neptune Laboratories ltd.
97. Newlife & Company Ltd.
98. Rasna Pharmaceuticals ltd.
99. ReadySun Pharmaceuticals (UNANI) Ltd.
100. Srijan Pharmaceuticals ( Unani )
Final Thought
At present, there are more than 250 registered pharmaceutical companies in Bangladesh. We know the names of many of these companies and have already heard of them. In this article, we have shortlisted the top 10 pharmaceutical companies in Bangladesh based on services, reputation, etc., and various surveys. Hopefully, after writing this, you have a clear idea about the best pharmaceutical companies in Bangladesh.