In this country, you will find very few undergraduate or postgraduate children who are not making any effort for government jobs. The current trend is BCS, outside of which there are job attempts in various government-semi-government or autonomous organizations. Need to apply for all government jobs in teletalk.
With stability, opportunities, new pay scales, social status, everything is becoming a government job day by day. Although the first step in government service, it is probably the most annoying thing; Applying for a government job.
See all Government Jobs Circular Click here
You have to fill out a huge form to apply for any position in any organization. In that form the candidate has to give so much information besides the name of his parents. Then upload the picture, signature; That's a big problem.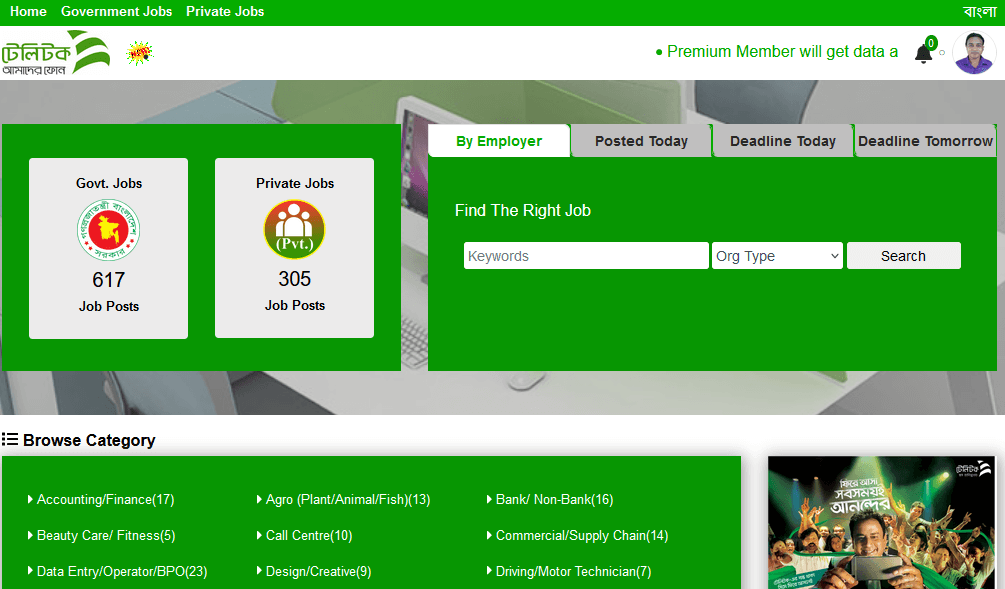 Cost Government Jobs in Teletalk
If there is no computer system at home, then the form can be filled from mobile. But it will definitely waste 30 minutes. If you want to fill the form from any other shop, there is no question of less than 100 Taka. So if someone applies for 5 jobs then 500 Taka will go for just filling the form; I left out the job application money.
There is another problem; Many people make mistakes while typing on the computer. He did not catch the wrong eye. Then there is the problem of printing the admit card while taking the test. Many put HSC results in place of SSC results. Many replace the current address with a permanent address. These mistakes are always there.
How To Register Teletalk Jobs Portal
Teletalk has created an excellent portal to avoid this mistake. Anyone using this portal will be freed from these problems forever. Suppose, you went to apply for BCS. The link on the BCS application form reads, "Are you registered with Teletalk Jobs Portal? Then give your user ID. "
Then all your information will be automatically uploaded in the BCS application form as soon as you press the submit button with your 10 letter user ID; You don't have to write anything else. Then click on the submit application button to complete your application.
It took me about 30 seconds to complete the whole process. Since I did not have to update any information, there was no possibility of making a mistake.
National Pay Scale- All Government Jobs Salary
How Apply for All Government Jobs in Teletalk?
The first time you have to work hard for 10 minutes. First, go to this link – https://alljobs.teletalk.com.bd/en/jobseeker/registration/
Create a new account with e-mail and password. An OTP of six characters will be sent to your e-mail address. With that, you have to verify your e-mail address.
After logging in with the registered e-mail and password, you will be asked for your name, father's name, mother's name, all the information of the educational institution. One by one you have to click on the save button and come out.
Then you will be asked to upload pictures and signatures, you have to upload and save them.
Apply for a job today.
Before that, I would like to ask you if you need to apply for a job again and again.
1: Mobile phone
2: A Teletalk SIM is better if it is alphabetical or you can see a normal Teletalk SIM.
3: Money for application in Teletalk SIM.
4: To apply online, you need to develop an Android Wara Android Phone, Megabyte.
5: Picture, sign-in signature, one thing here and do not have to size to see the picture to fix the resolution. I will show it to you today. If you haven't, you can. What you need is to be able to apply your own Android phone.
All Government Jobs application Teletalk
Teletalk has come up with a special web portal https://alljobs.teletalk.com.bd to apply for government jobs at the fastest time.
It has the facility to create free profiles for all job seekers and to apply for public-private jobs. There is a facility of auto-upload of data for premium members in government job applications.