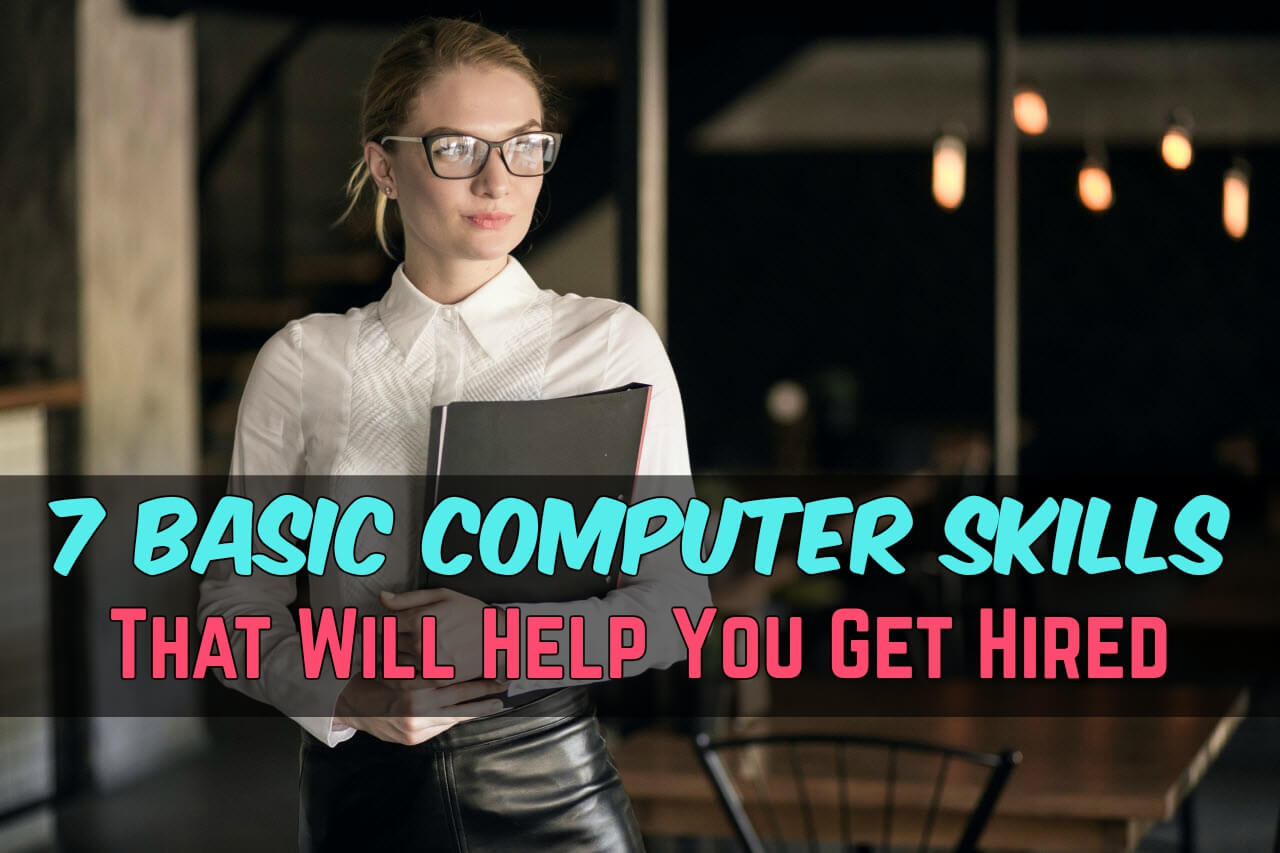 It is important to know basic computer skills to position yourself in the competitive job market. In today's article, we will focus on the issues of computer education that you should know first.
In the current difficult job market, academic qualifications and basic computer skills are expected. Unfortunately, students who complete basic computer skills after finishing high school are far ahead of getting a job. There is only one reason for this, starting from personal life to office. Computers are used everywhere now.
Having basic computer skills is now a must for any job. Desire, skills, and IT tools profoundly affect students' personal and professional lives. It will greatly increase your chances of improving your career.
What are the basic computer skills?
Basic computer skills are used to use the computer in different needs of daily life. For example, with computers, we can create school science projects. It is also possible to create banners for various events, college presentations, and many other things through the computer.
If you can do these things with a computer, you are proficient in the basic knowledge of computers. You can learn all these things at home. If you want, you can go to any training center. If you wish, you can complete an online course. No matter what you do, it is very important to know the basic computer skills to present your position in the competitive job market. In today's article, we will focus on the issues of computer education that you should know first. So let's get started.
Typing Skills
Although we can all type easily on mobile, it isn't easy to type continuously by looking at the computer screen. It is difficult but not impossible. Even in a typical job, a computer operator's English typing speed of up to 40 words per minute is required.
So you must be fairly good at typing. However, English and your language to write using a computer. So sound education and his alertness and dedication are also most required.
You may seek the help of a typist for an assignment. But if you can type well yourself, you don't need to type with someone outside. Doing so will save both your money and your time.
Some Popular Word Processing Software:
Microsoft Word

LibreOffice Writer

WPS Office Free Writer

FocusWriter

FreeOffice TextMaker

Write monkey
But just typing is not the last job. You also need to know how to present typed texts by formatting. It also has to be professionalized by mixing other text processing tools with plain text.
Read More: Top 10 Software Companies In Bangladesh
Solve Mathematical Problems
When someone talks about a mathematical problem or a calculation, Microsoft Excel comes to mind. Microsoft Excel is a kind of spreadsheet. Various tables show the statistics, such as stock market index, office worker's work schedule or salary sheet or students' mark sheet, etc.
By using Excel sheets, you can easily solve difficult arithmetic problems. You can easily do data entry work by acquiring these basic computer skills. And in the current ICT sector, there is a lot of demand for jobs like data entry. This computer skill can therefore come in handy.
Some Popular Accounting Software:
Microsoft Office Excell

Apache OpenOffice

Zoho Sheet

LibreOffice

Bime

FreeOffice 2016

ThinkFree

Numbers For Mac
Proficiency in Presentation
Whether you study at a university or work for a private firm, you need to be prepared for presentations. Usually, people assigned to a specific project give a presentation and explain the project.
However, this work has changed in the past, although it used to be done on paper. This work is now done through various software to bring modernity to the presentation.
The two software help us the most in creating project displays and presentations. And that is Google Slide and Microsoft PowerPoint. Although these two software are used for almost the same purpose, they have several differences.
Microsoft PowerPoint has many tools. Through this, you can easily make the presentation interesting. On the other hand, although there are not many tools in Google Slide, it is gaining popularity in creating quick presentations. As well as being a Google service, you can access it from anywhere in the world.
PowerPoint

Google Slides

Prezi

Vyond

Zoho Show

Keynote

Haiku Deck
Each of the software mentioned above has the option to create numerous slides. You can also attach pictures, add music, change the theme, change the font and change the color and size. So to survive with others in your current career, you must have this computer skill!
Graphics Design
Do you like to draw? If the answer is yes, you should learn graphics design as a basic computer skill. Graphic design is a part of computer learning, without which your computer knowledge would be incomplete.
You can create the magazines, banners, and posters you need instantly using various graphics software. Not only this, with the help of beautiful pictures you can edit your friends and give them gifts. It will allow you to continue your graphics practice, and later you will become more experienced in this work.
Some popular graphic design learning software:
Sketch

Adobe Illustrator

Affinity Designer

Adobe InDesign

GIMP

Gravit Designer

Canva
The software mentioned above is most commonly used for graphic design. Although you have to pay to use this software, you can use it for free at certain times for testing. However, there are many free editing software and tools available, with which you can learn design quite well.
This skill will come in handy in a presentation if you have good skills in graphic design. Using different effects and video clips will make your presentation easy to understand and different from others. And if you are good at using Adobe Photoshop and Illustrator on your computer, you will be the first to be called for this job!
Sending and Receiving Emails
You run a computer and don't know about email, what is it? One of the basic skills of a computer is to have a good idea about email. You need to know how to write an email, send it to the recipient, and receive it.
According to 2021 statistics, there are currently about 4 million email users worldwide, which will reach 4.5 million by 2025. So it is important to know how to use email. So it is very important to know all the uses of email.
The following companies offer free email services worldwide:
Gmail

AOL

Outlook

Zoho

Mail.com

Yahoo! Mail

ProtonMail

iCloud Mail
Social Networking
Social media sites are the most effective place for networking. Because on these sites we meet people of different kinds and professions. These people can be of great benefit to us later.
But social networking skills include how to talk to someone and avoid negativity.
Social media websites and apps are more active than people! However, you do not need to spend a lot of money to use these. So almost all the students use these.
Students do not have a job without studying. So they spend hours and hours on social media, and gradually they become addicted to it. So it is important to know the skills and methods of using social media sites.
Read More: How To Make CV Format Better
Basic Computer Hardware
After learning how to use different computer software, you should pay attention to its external aspects. For example, it is important to understand if any computer part is damaged and fix it. However, it will not be possible for you to solve all computer hardware problems in basic condition.
You need to know how to keep your PC clean and virus-free. It would be best to have a good idea about RAM, hard disk, basic input, and output devices. If you know these little things yourself, you will not need to go to the servicing center for any common problem. Instead, you can fix them yourself like a boss.
Final Thought
After high school, all students should learn basic computer skills. By learning these skills, it is expected that students and job seekers will be ahead of others in all respects. These things are also known from the internet, and again anyone can do the course if they want.
However, it is important not only for job seekers but also for those currently employed to know the necessary computer skills. It makes office work much easier. And for those who are proficient in basic computer skills, these issues have a very positive effect on their careers.
Share this job opportunity with friends and family: